Beispiele aus der Blütezeit des Freiberger Steinzeugs aus dem letzten Drittel des 17. Jahrhunderts
In Freiberg wurde nur im 17. Jahrhundert Steinzeug hergestellt. In der Zeit nach 1660 gelang es mit dem Reduktionsbrand hellgraues Steinzeug herzustellen, das für Freiberg besonders charakteristisch ist. Es wurden häufiger birnförmige Gefäße hergestellt auf denen das feine Netzwerk besonders gut zur Geltung kommt und einen ausdrucksstarken dreidimensionalen Hintergrund für die barocke Verzierung mit Stempeldekoren, wie eingeschnittenen Rosetten oder Blattornamenten, bildet. Dieser Stempelschmuck wurde auch auf dem Henkel angebracht und ist nur bei Freiberger Steinzeug zu finden. Mehrfarbige Bemalung mit Emailfarben dieser Ornamente, teilweise mit leicht goldener Erhöhung, kennzeichnen die Blütezeit der Freiberger Töpfer und ihre eigenständige Gestaltungkraft als Ausdruck ihrer barocken Kustfertigkeit.
Veredelt sind die Stücke teilweise mit prächtigen Originaldeckel aus der Werkstatt des Freiberger Zinngießers Samuel Günther d. Ä., so sie sich erhalten haben.
(vgl. Strauss, K., & Aichele, F. 1992, S.151)
Characeristics of Freiberg Stoneware in the last third of the 17th century at the height of the artistry of the Freiberg potters.
Typical for Freiberg stoneware is the use of small ornaments which the potters placed in bands between the lips and the body. Contrasting with a finely work chip carving is the extensive rosette and palmette decoration accentuated in enamel colors.
(c.f. Scheurleer, D. L. 1972 p. 128)
Decorativ innovations attributed to Freiberg include stamped ornament on handles but most important was the introduction of painted polychrome enamels in conjunction with sparcely applied gilding to highlight the effect. (c.f. Gaimster, D. R., & Hildyard, R. J. 1997 p.279)
Freiberger Steinzeugkrug um 1670, mit farbiger Emailbemalung und Vergoldung
Freiberger Steinzeugkrug um 1670, mit zweifarbiger Emailbemalung und originalem Deckel von Samuel Günther d. Ä.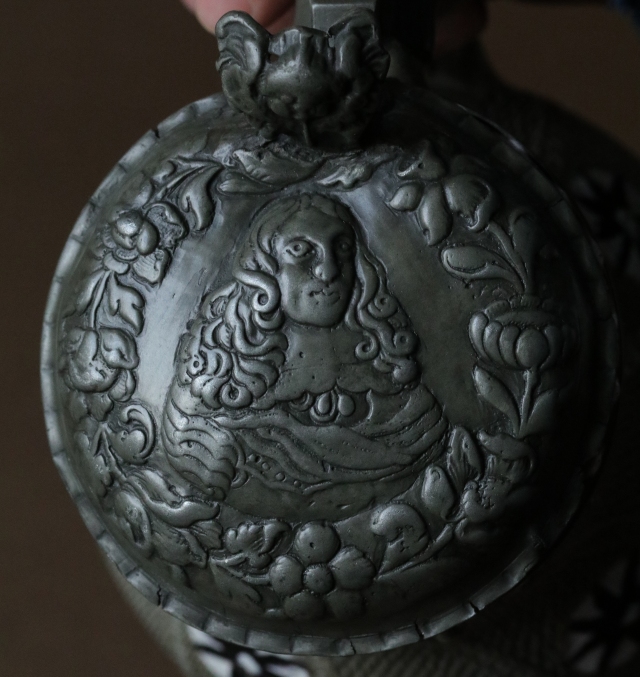 Samuel Günther d. Ä. (1659 Meister)
Typisch für Montierungen aus seiner Werkstatt sind der gewellte Rand, Daumenrast mit Engel Maskaron und Reliefschmuck. Sehr selten sind Montierungen mit dem Brustbild Johann Georg des III. Kurfürst in Sachsen.
Pewter lidding workshop of Samuel Günther the elder with Johann Georg III. elector in saxony.
(vgl. Horschik, J. 1981 S. 292)
Freiberger Birnkrug um 1670 mit polychromer Emailbemalung und germarktem Deckel von Samuel Günther d. Ä. (Katalog 2008 Peter Vogt München)
Literature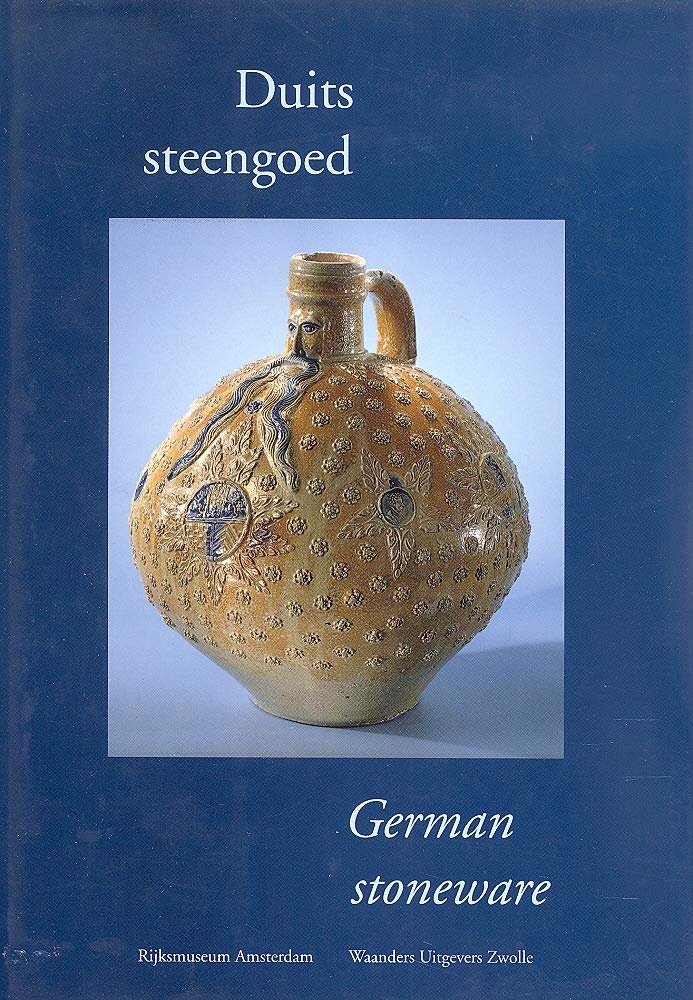 Scheurleer, D. L. (1972). Duits steengoed met wapens of portretten van Oranje vorsten. Netherlands Yearbook for History of Art/Nederlands Kunsthistorisch Jaarboek Online, 23(1), 391-405.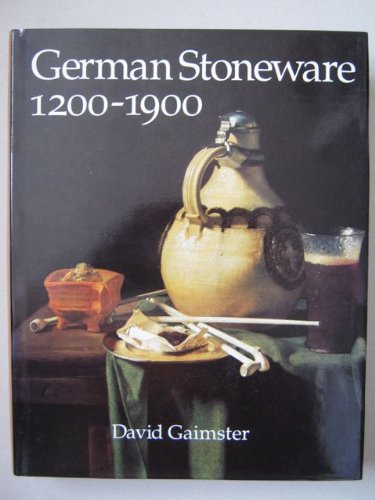 Gaimster, D. R., & Hildyard, R. J. (1997). German stoneware, 1200-1900: archaeology and cultural history: containing a guide to the collections of the British Museum, Victoria & Albert Museum, and Museum of London. London: British Museum Press.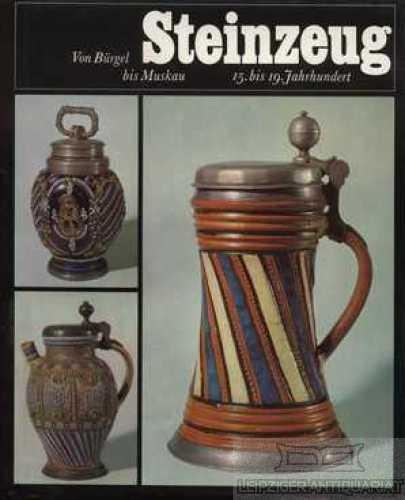 Horschik, J. (1981). Steinzeug: 15.-19. Jh.; von Bürgel bis Muskau. Ebeling.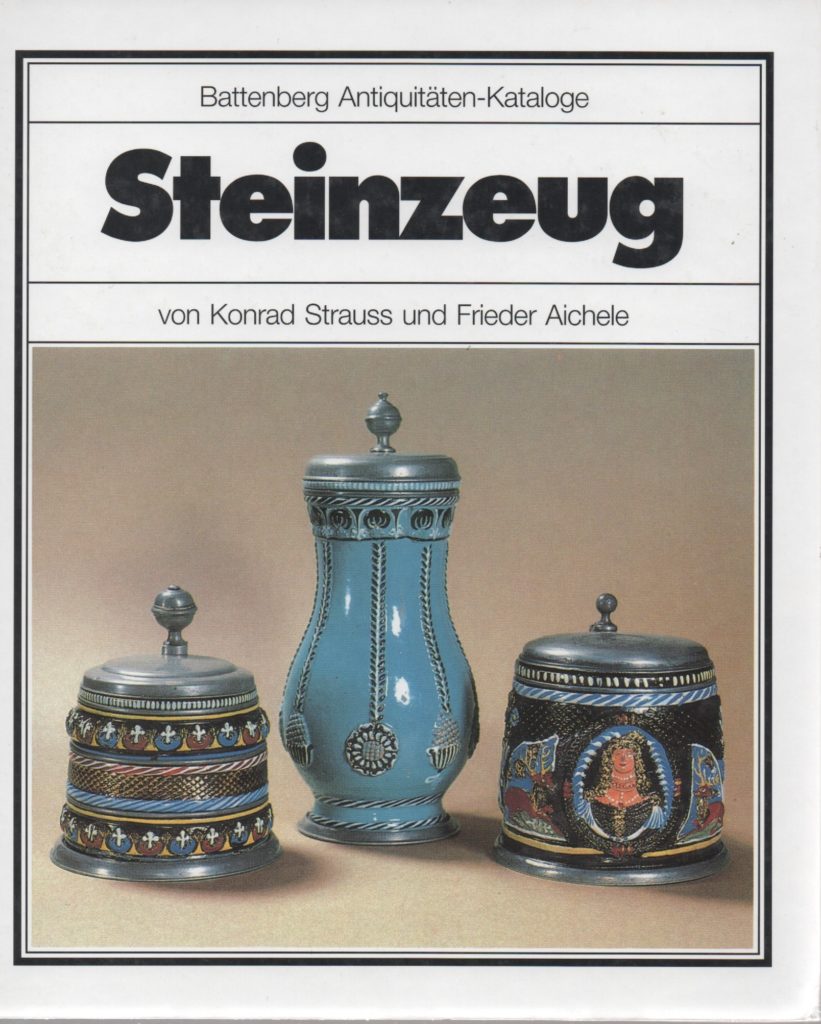 Strauss, K., & Aichele, F. (1992). Steinzeug. Battenberg.