Österreichischer Zunftkrug 1766 datiert
English synopsis:
Rare Baroque Austrian Faience Tankard dated 1766 with illustrations of representatives of the the butcher's and the brewer's guild. The inscription motto connecting the guilds –  freely translated: "My sausage is your clients thirst"

mit Abbildung von Vertretern der Zunft der Metzger und der Bierbrauerund die Zünfte verbindendem Sinnspruch
In die heutige Sprache übertragen "Meine Wurst macht Euch den Durst"
(Bekannt auch aus der Gastronomie, das salzige Essen fördert den Durst der Gäste)
Background History:
Ein spannendes Buch zum Thema Zunft der Ausstellung des Germanischen Nationalmuseums aus dem Jahr 2013 hier als download ein Blick ins Buch:
From the Middle Ages to the 19th century, craftsmen were organised in guilds. The Germanisches Nationalmuseum preserves one of the largest collections of crafts and guild history in the German-speaking world. The exhibition and catalogue – supplemented by important loans – present around 260 exhibits for the first time. The latest research results provide the basis for fascinating stories about precious guild boxes, refined masterpieces or curious drinking vessels.
Vom Mittelalter bis ins 19. Jahrhundert waren Handwerker in Zünften organisiert. Das Germanische Nationalmuseum bewahrt eine der größten Sammlungen zur Handwerks- und Zunftgeschichte im deutschen Sprachraum. Ausstellung und Katalog präsentieren daraus – ergänzt um bedeutende Leihgaben – erstmals rund 260 Exponate. Neueste Forschungsergebnisse liefern die Grundlage für faszinierende Geschichten rund um kostbare Zunftladen, raffinierte Meisterstücke oder kuriose Trinkgeräte.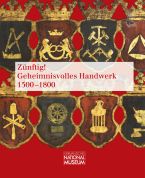 Zünftig! Geheimnisvolles Handwerk 1500-1800
Hrsg. von Thomas Schindler, Anke Keller und Ralf Schürer. Begleitband zur Ausstellung im Germanischen Nationalmuseum vom 21. März bis 7. Juli 2013
Nürnberg 2013
314 Seiten
300 farbige Abb., Festeinband 27,5 x 22,5 cm
Best.-Nr: 755
ISBN: 978-3-936688-73-3
Literature reference object:
Hunting treasures at Fuschl Castle in Austria
Provenance A. Vogel Collection