Sceaux | Albarello 18th Century
A Pair of Sceaux Faience Drug Jars Periode J. Chapelle – End of 18th Century
Some interesting background information about the manufactury you can find at the J. Paul Getty Museum:
The ceramic manufactory at Sceaux, outside of Paris, was founded initially as a faience factory about 1735 under the patronage of Anne-Louise Bénédicte, duchesse du Maine. In 1748 the original owner, Louis-François de Bey, went into partnership with Jacques Chapelle and began manufacturing soft-past porcelain. Chapelle, who had previously worked as a modeler at the Rue de Charenton manufactory, became co-owner and director of the new enterprise.

http://www.getty.edu/art/collection/artists/1199/sceaux-manufactory-french-active-about-1748-1766/
Vases de pharmacie en faïence de Sceaux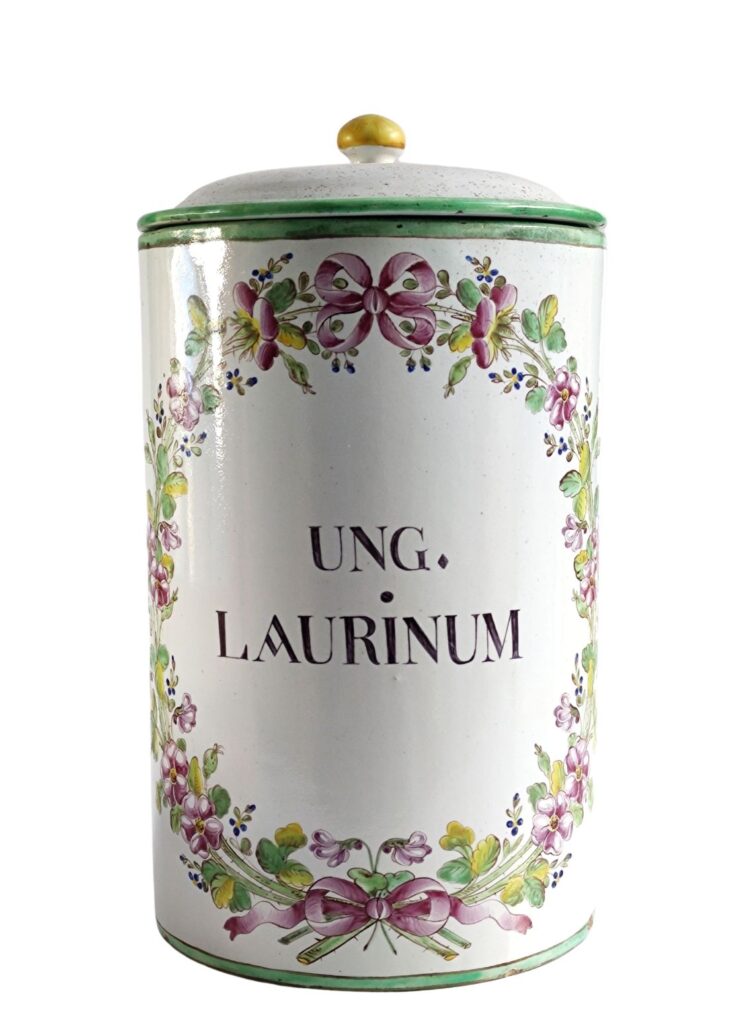 Paire de pots d'apothicaires cylindriques décorés en petit feu d'inscriptions pharmaceutiques. Période de Jacques Chapelle (1748 – 1763) Fin du XVIIIème siècle
Example
Marque Sceaux
fleur de lys
Période
Jacques Chapelle
(1748 – 1763)

Rarement signées, ses œuvres sont très souvent marquées à la fleur de lys (armoiries de la duchesse du Maine) ou des initiales « C.S » désignant « Chapelle-Sceaux ». Sur la porcelaine, elles sont souvent en creux ou en sous glaçure et, sur faïence, elles sont peintes.
Plusieurs marques sont aujourd'hui attribuées à Jacques Chapelle :
une fleur de lys peinte à l'image de celle des armoiries de la duchesse, de couleur soit bleue, rose ou verte ;
une fleur de lys encadrée des lettres « S » et « X » vers 1763. Chapelle continuera à employer la fleur de lys après la mort de la duchesse du Maine en 1753 ;
« J.C. », ou la lettre « C », les deux avec ou sans date.
Source: Jacques Chapelle — Wikipédia (wikipedia.org)
Museum – Musée du Domaine départemental de Sceaux
Le musée présente quelques pièces en faïence de Sceaux. Mais depuis les années 1950, grâce à des achats nombreux, des dépôts, dons et legs importants (Millet, Hulot de Collard, Dalpayrat), le visiteur bénéficie d'une vue d'ensemble, de la diversité de la production manufacturière, et du renouveau de la fin du XIX° siècle représenté par Edmond Lachenal, Adrien Dalpayrat et Emile Decœur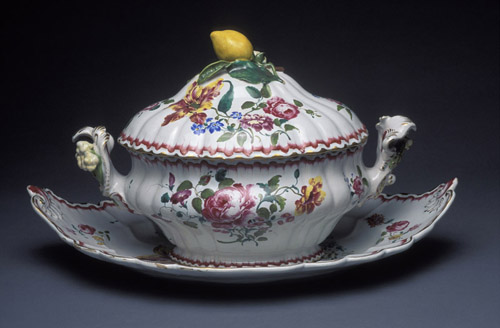 The Château and the Museum
English summary: The Musée du Domaine départemental de Sceaux was set up in 1937 and stands at the very heart of the Domaine de Sceaux, where it now houses its collections in a number of prestigious buildings such as the Château, the Orangery, the Pavillon de l'Aurore, the Petit Château and the Stables. A tour of all the buildings, together with a stroll along the paths of the park designed by Le Nôtre, the Sun King's gardener, allows visitors to take a fascinating walk into history, from Jean-Baptiste Colbert's time right up until the present day.
http://domaine-de-sceaux.hauts-de-seine.fr/les-collections/ceramique/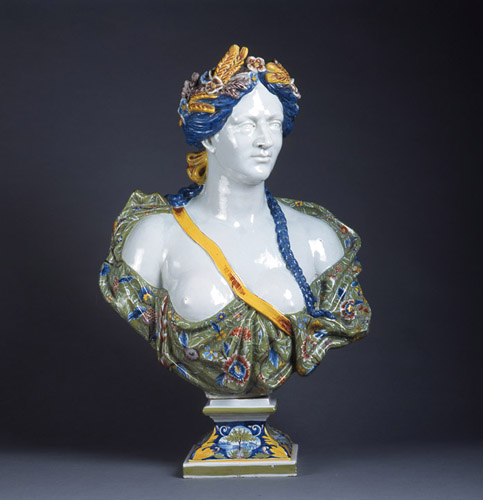 Literature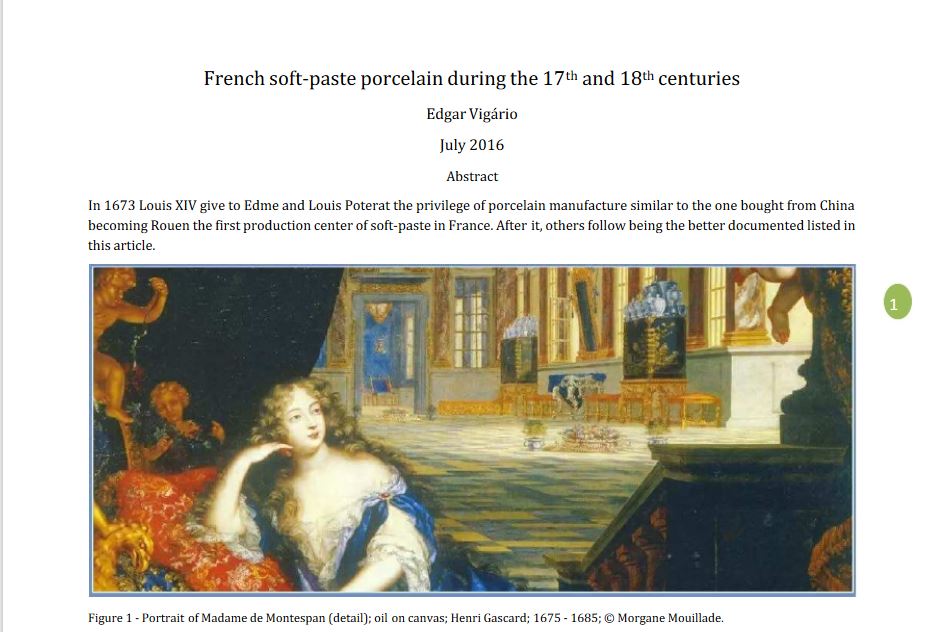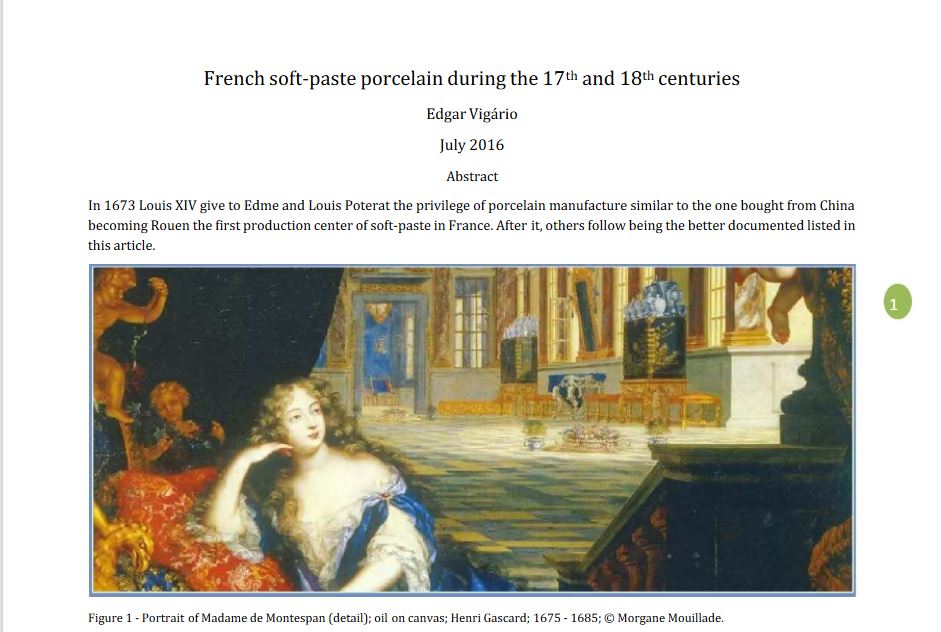 A very interesting article on French soft-paste porcelain during the 17th and 18th centuries byEdgar Vigário on Academia.eu
In 1673 Louis XIV give to Edme and Louis Poterat the privilege of porcelain manufacture similar to the one bought from China becoming Rouen the first production center of soft-paste in France.
Read more