Joseph Hackl and Christian Georg von Koepff Periode 1753 – 1754
Rare faience objects of the periode that only lasted for one year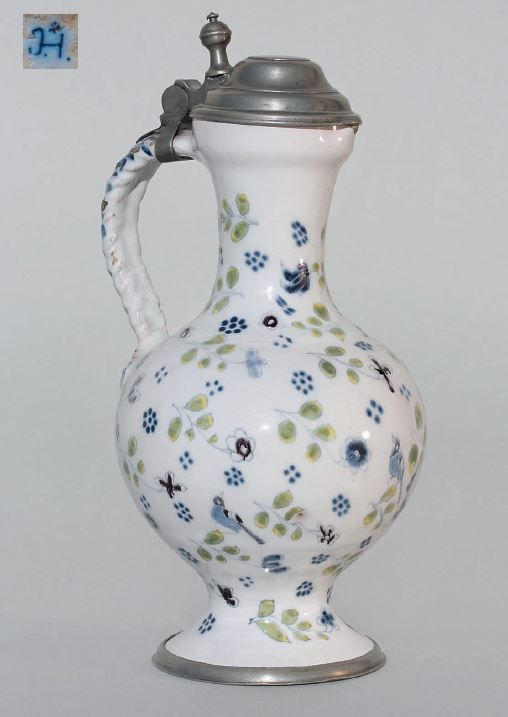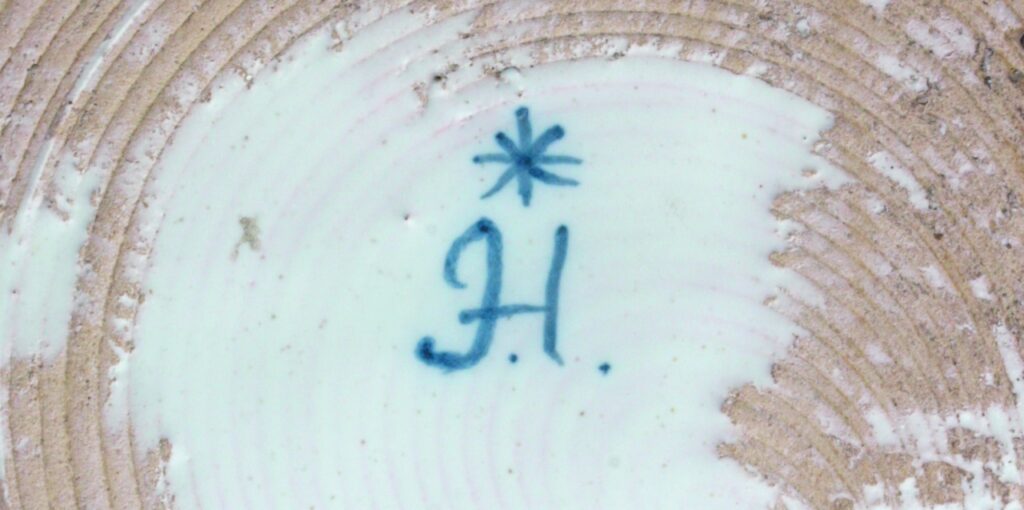 The mark "JH" in ligature under an eight-pointed star.
This mark stands for the Augsburg faience manufactory founded at the beginning of February 1753
by Joseph Hackl as director in cooperation with Christian Georg von Koepff.
Hackl ended this alliance just one year later and played a decisive role founding the Friedberg manufactory in 1754.

source: Koch, page 71, fig. 41.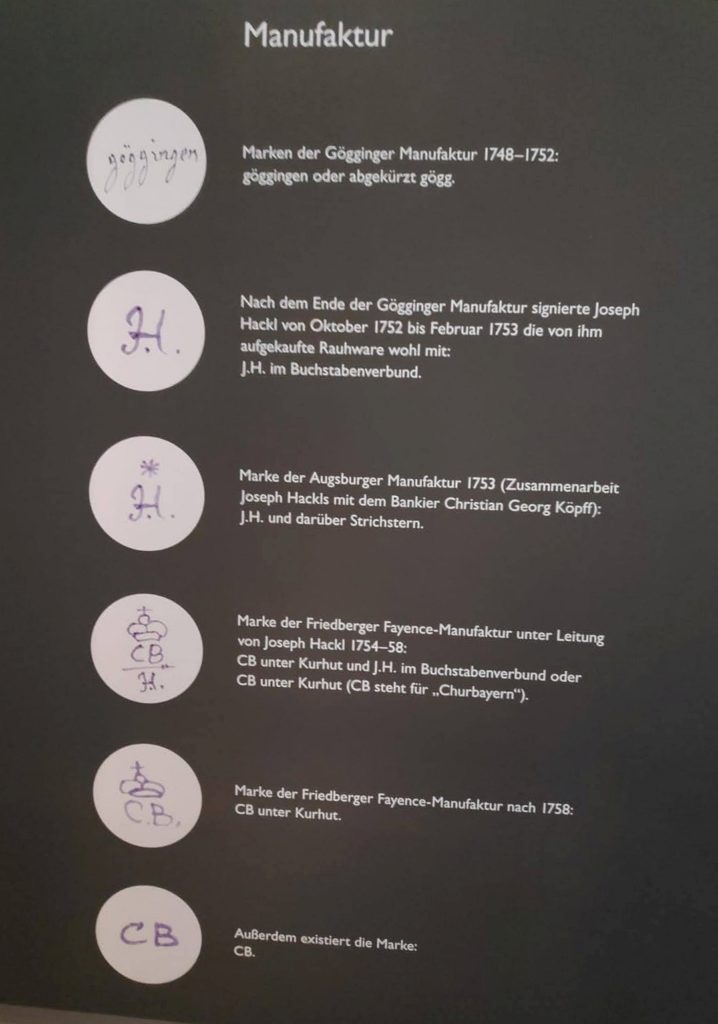 Manufakturmarken
Vor 1752 ,Augsburger Pyr" als Fabrikmarke der Schaur'schen Manufaktur.
1752-1753 diente ein Stern aus drei oder vier gekreuzten Strichen (so genannte ,Augsburger Pinienmarke") als Marke der Manufaktur von Christian Georg von Köpff.
1753-1754 ist von Joseph Hackl ein ligiertes JH" überliefert, als Marke mit einem Stern aus drei oder vier gekreuzten Strichen.

Literatur
Klein, Adalbert: Deutsche Keramik, Tübingen 1993.
Müller, Hannelore: Augsburger Fayencemanufakturen, in: Keramos (1971),
Heft 53/54, S. 57-76.
Pichelkastner, Eleonore / Hölzl, Eckart: Bruckmann's Fayence-Lexikon,
München 1981.


Timetable for the factory marks above:
Göggingen – Augsburg – Friedberg
These three manufactories are connected by an entrepreneurial personality, the Augsburg sculptor and Hofbossierer Joseph Hackl († 1760). He was involved in all three factories. Another characteristic they have in common is that their objects are rare because they only existed for a very short time.
Göggingen 1748 – 1752
In 1748 the Prince Bishop of Augsburg Joseph signed a contract with Georg Nikolaus Hoffmann, who had previously worked as a painter and pottery turner in Ansbach, Schrattenhofen and Künersberg, to set up a factory in Göggingen and put him in charge. In 1749 Joseph Hackl was placed at his side. In 1750, after Hoffmann's dismissal, Hackl took over the direction of the manufactory on his own.
On 19.10.1752 the Prince Bishop ordered the closure of the manufactory.
Joseph Hackl buys the unfinished goods. By the beginning of 1753 he had finished painting the white wares himself in Göggingen.
Augsburg 1753
In March 1752 a factory previously operated in Schaur's garden was revived at the instigation of the banker Köpf. Hackl joined this enterprise in March 1753, which only existed for a short time, as Hackl soon went to Friedberg. Köpf used a star as his trademark. The factory mark of the joint company was the Hackl monogram under the star
Friedberg 1754-1768 The "churfürstlich privilegierte Porcelain fabrique" was founded under Elector Maximilian III of Bavaria. 1754 was the year of its foundation. Hackl took over the management of the factory established in Friedberg Castle. In April 1758 he resigned, possibly due to health problems. He died in 1760.
Museum Reference:
Bayerisches Nationalmuseum München
Jugs with the mark JH (ligated) under 'star' belong to a very small group of ceramics.
Known is a very similar jug with 'Indian' flowers, but without a bird, in the Augsburg Art Collections and Museums, Maximilian Museum, as well as a tankard with similar decoration from the Paul Heiland Collection, today in the Bavarian National Museum, Munich. The mark JH (ligated) under star" from the same collection is on a narrow-necked jug with bird decoration as well as on pieces of tableware: a plate with the Allianz coat of arms, Chinese blossom branches on the flag, or a small oval footed bowl from an earlier acquisition of the Bayerisches Nationalmuseum, Munich. (see below)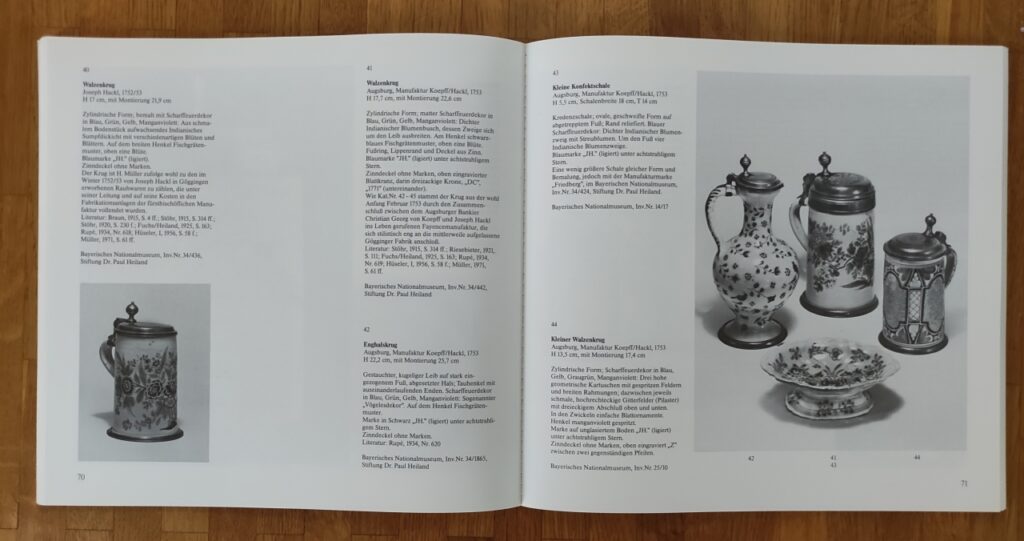 Literature: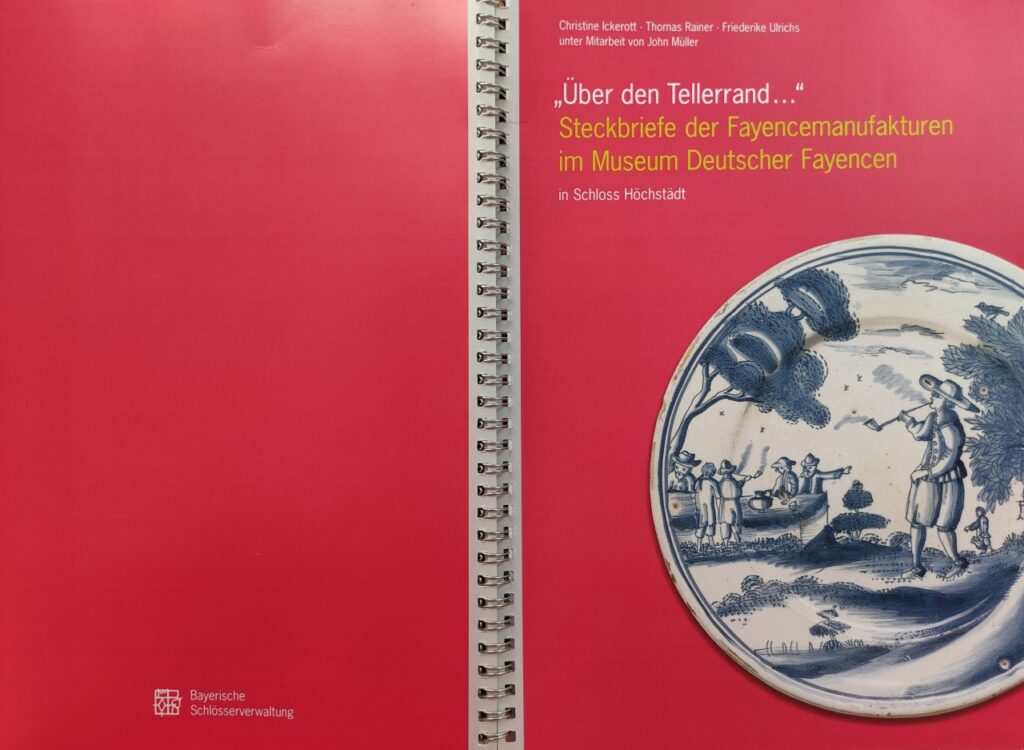 Kohwagner Nikolai, T., Nahstoll, B., Piereth, U., Rainer, T., Ulrichs, F.
(2010). "Über den Tellerrand …":
Museum Deutscher Fayencen im Schloss Höchstädt : Steckbriefe der Fayencemanufakturen.
Deutschland: Bayerische Verwaltung der staatlichen Schlösser, Gärten und Seen.
https://www.schloss-hoechstaedt.de/deutsch/fayence/index.htm